Sign up with beWanted and access the full profile from Clara ¡It's free!

Create a process

Search for the best

Invite your candidates

Contact with them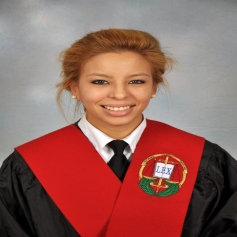 Studies
Derecho y Ciencias Políticas
Universidad San Pablo-CEU
| January 1970 - June 2014 |
Average grades: 7.50
Máster Universitario en Acceso a la Abogacía por la Universi
Universidad Pontificia Comillas ICADE-ICAI
| October 2014 - February 2016 |
Average grades: 8.20
Prueba estatal de acceso para el ejercicio de la abogacía. Título de abogada.
Ministerio de Justicia
| January 2016 - February 2016 |
Average grades: 7.50
Experience
Azafata de Congresos - LISELIN
September 2012 - December 2013
Pasante de despacho - Margarita A. Girón Arribas
May 2014 - July 2014 | Spain, Madrid
Internship - Eversheds
September 2015 - February 2016 | Spain, Madrid
Opositora - Cuerpo de Letrados del Consejo de Estado
March 2016 - Currently | Spain, Madrid
Languages
English | High, Cursando actualmente FIRST